How to Become a Locksmith
If you're looking for a job that is both profitable and rewarding, then becoming a locksmith might be a career choice to consider.
Locksmiths work with locks and safes, and provide services such as installing locks, helping people choose the right lock for their home or business, repairing broken locks, and opening doors when someone gets accidentally locked out of their home or business.
According to statistics, locksmiths earned an average of $37,560 in 2012, and employment opportunities are supposed to grow seven percent by 2020. Locksmiths can choose to work under those with an established reputation or company, or may start their own business.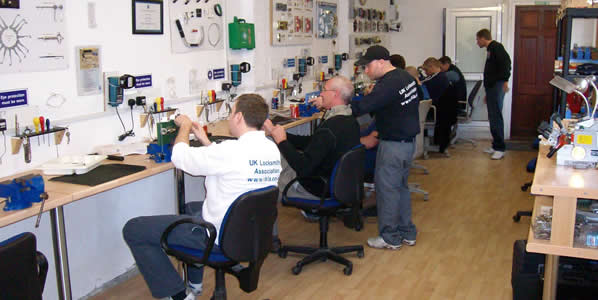 Locksmith Training

Becoming a locksmith requires special training to prepare you for any necessary licenses and certifications, and to get you ready to meet the needs of your future customers. Locksmith training includes both classroom instruction and first-hand experience.
Depending on your location and preferences, you can choose to either attend live classes or take part in online courses. To locate a program, check the list of approved training classes on the Associated Locksmiths of America website.
The training courses can take anywhere from two to four months, while the on-job training will take even more months or even years to finish.

Following their training courses, many locksmiths choose to become apprentices or trainees under the supervisions of someone who is a successful locksmith.
This gives you the opportunity to truly see what it is like to be a locksmith and gain hands-on experience. These apprenticeships usually last a couple of years.

Licenses and Certification for Locksmiths

Being a locksmith is a huge responsibility since it gives you the opportunity to open locks and enter various homes and establishments. Because of this, there are certain requirements that locksmiths are supposed to meet.
Depending on where you live, you maybe required to only pass a background check; however, other state require locksmiths to complete training courses, passing exams, and obtaining a license.
If you are an apprentice when you go for your license, you will probably be required to show proof of your in-training position.

Even if you are not required to gain a license, you may choose to get a certificate simply to showcase your abilities and earn respect among potential clients.
The Certified Registered Locksmith position is offered by the Associated Locksmiths of America and is a popular option that is obtained by passing a test that involves information about different aspects of the job.

Finding a Job as a Locksmith

Starting your new job as a locksmith can seem challenging since people maybe unwilling to give you a chance if you have no experience. Most people find that their best option is to work as a trainee or apprentice for the first few years after they finish classes.
This will help you to gain experience and earn a reputation. Once you have developed a name for yourself, you can expect to find a position with an independent locksmith, security equipment businesses, hardware stores, or large organizations.
If you want, you can also open your own business and offer the services you choose.

Additional Information

There is no step-by-step guide to becoming a locksmith. Instead, the job is flexible with different training classes and options depending on where you live and your target job position.
To get the best idea about the path to this position, take time to talk to different experienced locksmiths who have found success in this field in addition to viewing the information on the Associated Locksmiths of America website.